by Adriano Manocchia - March 8, 2010
A Little Perspective
When I recently saw someone refer to the "relative mediocrity" of this year's team, I died a little inside. Fair warning: there's a bit of "back in my day" coming, but it's not like I saw Dryden play or anything. I've been around just a bit longer than Mike Schafer has been head coach, which means I caught the tail end of the McCutcheon era. Or maybe I should call it the "ass end." While Brian has shown that he can hold his own as a coach in the pro ranks, he fell into that college coaching mould in which Harvard's Ted Donato currently resides. You know, the kind that manages to bring in all sorts of blue chip talent then squanders it until the kids graduate or leave out of frustration. Cornell was like that, except for the late-season runs Harvard tends to make these days.
Yeah, yeah, "get off my lawn" and "uphill both ways in the snow" and whatnot. This wasn't that long ago and it really was that bad. From 1985 to 1995 Cornell had beaten Harvard twice in 25 tries, the Big Red hadn't won an ECAC or Ivy title in McCutcheon's tenure, and all sorts of other depressing facts old codgers like to rattle off. So Schafer inherits this bunch of misfits that McCutcheon recruited and understandably took a while to build a team in his style before he found success. Oh wait, that's not what happened at all. Cornell won the ECAC championship and Ivy title his first two seasons and immediately began trouncing Harvard year after year.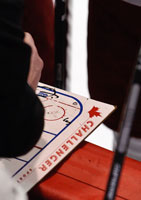 Coach Schafer draws up a play during a timeout
Under Schafer, Cornell has won four ECAC championships and six Ivy titles, along with seven NCAA tournament game wins, not to mention that Frozen Four appearance. When this year's team can be considered relatively mediocre while at the top of the ECAC standings, perhaps some of us have become a bit spoiled. People need to come to grips with the fact that we're in a golden age of Cornell Hockey and take advantage of it while it lasts.
1970 will never happen again on the East Hill, but if you put yourself in a position to compete on a national level every year, you only need a few good bounces to find yourself playing for an NCAA championship from time to time. Ivy League hockey teams (and Cornell in particular, depending on who you talk to) face taller hurdles than ever before. The bluest of the chippers that opt for college will keep taking their two free years of "education" from the usual WCHA, CCHA, and Hockey East suspects before bolting into AHL obscurity. That leaves the bulk of college hockey fighting over the late-bloomers, underachievers, and, well, let's call them "hard workers."
It's truly a rare bird that boasts top-level talent, cares enough about his education, and has the academic merit to pick an Ivy League school over a free ride somewhere with better facilities and bottomless pockets. When Cornell traveled to the University of North Dakota for a pair of games last year, they took a bus to Hamilton, Ontario, flew to Winnipeg, then took another bus to Grand Forks. When the Sioux reciprocated this year, they chartered a jet from Grand Forks to Ithaca. Plus, Lynah Rink doesn't have a prime rib carving station or an extra olympic-size practice rink. How do you compete with that?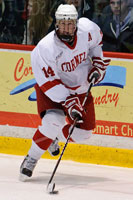 Riley Nash
It's rarer still that a recruit will pick an Ivy like Cornell that expects you to earn your degree--a degree they also expect you to pay for. Harvard, Yale, and Princeton have been effectively tuition-free for low-income families for some time. Other Ivies have been creative with their financial packages to achieve a similar result. Only now has Cornell joined their ranks, a bit behind the curve, but very welcome news for the coaching staff. While the number of Division I hockey programs has remained fairly consistent, many of the traditional bottom-dwellers have bolstered their programs to the point where there is unprecedented parity in college hockey, and competition for recruits is as fierce as ever. Even within the ECAC, Quinnipiac's roster looks like a phone book, Brown seems to have finally stumbled upon a competent coach, and Union has come to grips with the fact that athletic success does not tarnish academic standing. Despite all that, Cornell still rolls out teams that compete at the top of the league year after year.
Student season tickets did not sell out this year for the first time in over a decade. The increase in ticket prices, an oppressive atmosphere in Lynah, and basketball's huge recent success have certainly played a big role, but students would have been clamoring for a season like this in the McCutcheon era. Instead, it's been relegated to "relative mediocrity" in the minds of The Faithful. Ask Clarkson or Dartmouth how quickly you can be knocked off the ECAC pedestal. Whether or not Riley Nash returns for his senior year, Cornell may be all-too-equipped to answer that question very soon. On the other hand, that kind of doom and gloom has been forecast plenty of times in recent memory and Cornell always seems to end up near the top of the pack. So when Harvard rolls into town next weekend for what's sure to be another spectacular series, show your support and appreciate what Mike Schafer and his staff have managed to accomplish year after year.